Seven seconds.
That's how much time it takes to make a first impression. As an agent, your first impression has to be fantastic in order to convince a seller to list with you. Proper planning and preparation will gain you an edge over the competition and earn your potential seller's business.
In this post, you will find an extensive list of listing presentation tips to help you stand out, look great and increase your chances of winning the real estate listing.
Do Your Research
1. Learn everything relevant that you can about the listing property and seller. Check tax records for details on the property. You should also try a simple Google search to see if your potential client maintains an online presence on sites like LinkedIn or Facebook.
2. Drive by the property to get a sense of the neighborhood and snap an image for the listing presentation. Unless the property has been listed in the MLS before, you will need a subject property photo to enhance your CMA.
3. Check and see if the property has sold and in past MLS records. Make a mental note of previous pricing trends.
4. Bring along a list of basic repairs and checks that will improve the prospects of a listing. These should apply to any home and should be easy to fix or implement, with a good return on investment. For example:
Raising blinds and shades to open a room and bring in more light

Painting, especially over flaws in the current paint

Updating the landscaping

Staging the main living areas—placing patio furniture, dressing up the spare room, etc.

Cleaning out cluttered storage areas

Simplifying over-complicated decorations

Fixing and replacing broken or burned-out light fixtures
5. Understand the client's reasons for selling. A seller reacting to a life-changing event such as a new job or a child's departure for college may need different guidance than an investor ready to flip a valuable property.
Scheduling Listing Presentations
6. At open houses you host, soft sell to possible clients who come through the door. Master active listening and be specific about how you express interest in helping them to show that you understand their unique situation.
7. Always keep a stack of your professional marketing materials on hand to give out. Keep a spare stash in your car as well as on your person.
8. When meeting a potential client, ask the Five Ws (and one H):
Who makes up the family (how many adults, children, and pets)
What they are looking for (from the number of bedrooms and bathrooms down to the style of home they prefer)
When they are interested in moving or selling
Where they would like to live
Why now is the time to make a change
How they plan to proceed (what is the first/next step? Do they have an agent yet?)
9. If a potential client expresses interest in sitting down with you, ask to set an appointment after they have spoken with any other agents they are considering. Being the last to interview can give you a huge advantage, since you will be fresh in their minds.
Come Prepared for Success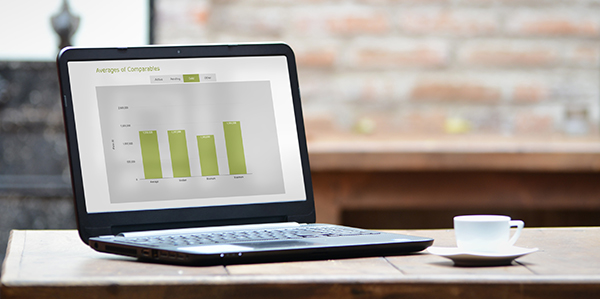 10. Whether you have crafted them into a CMA or just printed a copy off your MLS, bring along the latest market statistics and trends to back up your statements.
11. Make sure you have appropriate marketing sheets with you.
12. A beautiful, full-color market analysis and presentation will go a long way towards snagging and keeping the attention of any client.
13. Clients want to see where their home sits on the market. Show them with graphs and other visual methods of interpreting data.
14. Put together a pitch for why you are the best agent for this specific client. Cite area expertise, previous similar transactions, your personal ties to their reasons for moving, and more.
15. Bright, gorgeous brochures are great for leaving behind with an interested client.
16. Know who you will use to take the professional photos of the home and bring along a sample of their work.
17. Offer to craft a visual walkthrough of the home, if possible. Again, bringing samples of the work you can provide—whether you do the walkthroughs yourself or hire a professional—will go a long way towards convincing a client you are prepared to be their agent.
18. Know your strengths as an agent. Be confident in the value of your knowledge, expertise and resources.
Stand Out from the Competition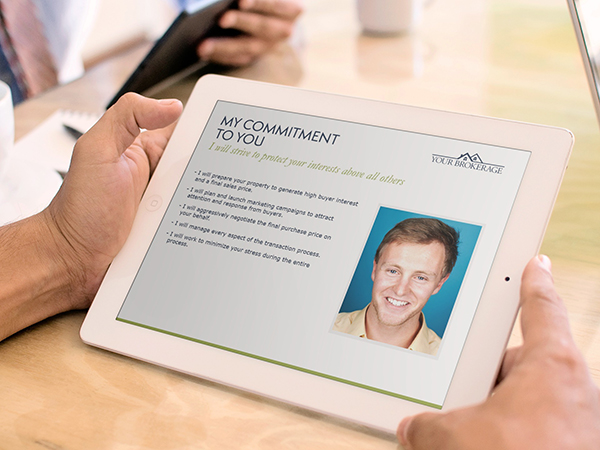 19. Never speak ill of your competition. Talk respectfully about your fellow agents, and you're more likely to receive the same courtesy in return.
20. Provide the same high level of service, no matter the value of your client's property.
21. Encourage sellers to interview multiple agents to ensure they are working with the right person.
22. Never put pressure on potential clients. Don't be afraid to ask for what you want, but pestering will not win you business.
23. Be informative without being aggressive or pushy.
24. Be honest. Share the good and the bad and be constructive with your advice, but don't sugarcoat the situation.
25. Dress well and appropriately for the client and situation. For example, if you are meeting at a coffee shop, you may dress more casually than if you are meeting over dinner on the waterfront.
26. Smile and make eye contact. It will increase your likeability and make you seem more accessible.
27. Speak clearly and with confidence.
Following Up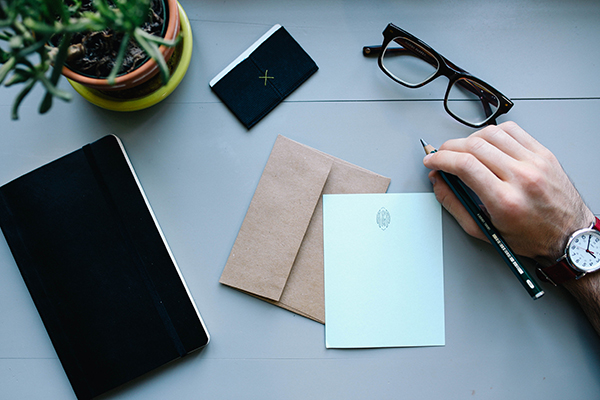 28. Always follow up with a personal note. Don't use a form letter. Try to send a handwritten note if you can.
29. With their permission, add the potential client to your mailing lists so you can keep in contact with them even if they choose a different agent or decide to wait to list their property.
30. Send potential clients a monthly market update via email –whether a newsletter, statistics or just some helpful information they can use. When they are ready to sell, your name will be stuck in their minds.
31. Send a small, thoughtful gift, and personalize it if you can, to show you are willing to go above and beyond what is expected.
32. Follow the two-day rule: wait at least 48 hours after the presentation to follow up. Have a very specific question ready when you do follow up: "Are you ready to list your property?" or "What are your concerns about listing at this time?"
More Tips
33. When crafting marketing language, try to avoid the word "sales" to describe yourself or your business. Unfortunately, the term "salesperson" is perceived to be dishonest in a marketing-heavy world. Instead, portray yourself as a trusted consultant, pledged to provide the highest quality service and reach the client's desired outcome.
34. Always focus on the prospect's needs as the foundation of your discussion. Demonstrate that you are the best person to represent them and show your understanding of their needs as your starting point.
35. Guide the prospect to the answers. Instead of reading off your slides or drawing your own conclusions, allow them to interject in what will feel like a "Eureka!" moment for them. If you can get a prospect to speak the key points you are trying to make, they will feel like they have arrived at the answer themselves and it will be stronger for that.
36. Keep the presentation focused on the client. Talk about yourself, but put it in the context of how you can help them.
The Don'ts
37. Don't show up late. Make a great impression and show up a few minutes early. You should treat it like a job interview–after all, it is!
38. Don't carry strong smells on your person. Pets, cigar or cigarette smoke, alcohol, strong cologne or perfume, garlic–these can be immediate turn-offs and make up someone's mind before you even have a chance to speak.
39. Don't neglect your homework. Know the seller's motivations for their life change, the general condition of their home and how much work they are willing to do to get their house ready for the market.
40. Don't overlook the seller's financial situation. Finances are a touchy subject, so you may not want to ask directly, but infer what you can from what they say.
41. Don't treat the real estate listing appointment too casually. Take your clients (or prospective clients) seriously!
42. Don't try to hard-sell yourself in an area you know little about. Keep a list of experts you trust and refer your clients to them if you aren't sure of an answer.
43. Don't display architectural ignorance. If you aren't familiar with the type of home your clients have, do a little reading beforehand.
44. Don't move too quickly through your presentation. Speak slowly and clearly and stop for questions.
45. Don't forget to tailor your presentation to the specific audience. You may have a standard set of marketing materials, but some may not be appropriate for every situation.
46. Don't talk more than you listen.
47. Don't ignore anyone at the presentation. When a couple or family is present, it isn't always easy to tell who the real decision maker is, so it is best to assume that if they are at the listing presentation, they have some weight in the final decision. Address the needs of all present.
48. Don't ignore the client's pet(s). If you are uncomfortable with an animal, politely request that it be removed from the room, but otherwise be friendly.
49. Don't be ignorant of the surrounding neighborhoods.
50. Don't forget to explain your personal system of success. Be up front with how you market and negotiate.
51. Don't appear disorganized.
52. Don't fail to recommend improvements that you truly believe would raise the home's value.
53. Don't let your cell phone interrupt the conversation.
54. Don't bring a bad mood to a meeting.
55. Don't overlook the power of mirroring.
56. Don't forget to thank the sellers for their time and for allowing you in their home.
The tips on this list are meant to be a reminder and a set of guidelines–not every suggestion will apply to every situation, and you may have your own protocol for winning listings.
Good luck on your listing presentations!
If you found this post useful, your friends might too. Please consider sharing. Thank you!